Personal Injury for Busy Providers (AIPIP)
oktober 24 @ 8:00 f m

-

5:00 e m
Early Seminar Registration is Open!
Now through Friday, October 9, 2020
Limited Seating / Social Distancing in the Meeting Room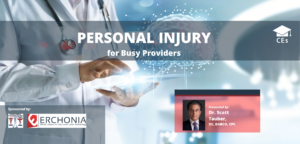 Saturday, October 24, 2020
"Personal Injury for Busy Providers"
Phoenix, Arizona
8 – Hours CE Credits Applied – AZ, CA (7-Hrs), NV, UT
Includes 2-Hours of Required Arizona Chiropractic Board Documentation and Record Keeping
Get in on the the best PI seminar this year…
Personal Injury…it's the part of your practice you love to hate!
Sadly, none of us were taught Personal Injury in our professional training…
But what if there was a way to cut through the PI clutter and actually implement proven systems, information, concepts and materials…
All designed to strengthen documentation, support case management, protect cases, increase marketability and improve outcomes…
PI does not have to be complicated, confusing or even overwhelming…
If you want better PI outcomes and immediate marketability
You must stop "under-diagnosing" your cases
You have to know the 3 key elements to every PI daily treatment note
You must identify the most commonly missed injuries
You have to protect your cases and "feed the carrier software"
But don't take my word for it…
"Can't thank you enough. I have made massive changes and it has been working really great. Even got an email from one of our lawyers with how impressed he was. I told him he should go to your seminar lol."
Cameron Hall, DC – Westminster, CO
Register now to get the best price!
Use coupon code laser2020 for $20 off your registration!
Location:
Phoenix Airport Hilton
2435 S. 47th St.
Phoenix, AZ 85034
Hotel Phone: (480) 894-1600
Seminar Hours:
8:00 am – 5:00 pm (7:30 Registration)
Lunch Will be Provided
*If you need hours for other states, please contact NWHSU before the seminar at 800-888-4777. Certain restrictions apply.
*Add $60 extra for CEs (if needed) for CA (7-Hrs), NV, UT
Not all states covered.
CE Hours are applied for by NWHSU to the chiropractic state licensing boards.
AIPIP
"The Power to Transform Your
Personal Injury Practice"
Relaterade Evenemang